How does summer smell to you?
What aromas make you happy?
Maybe you haven't thought about it much, unless you have seasonal allergies or a cold.
Today, let's appreciate our sense of smell.
Taking time to enjoy the aroma of a delicious meal enhances the flavors and brings you into a more conscious mode of eating. Slowing down, focusing on each bite, and relaxing long enough to enjoy it, all contribute to maintaining your weight and even shedding some extra pounds.
All sorts of smells may jog our memories to bring back happy feelings. Can you think of any?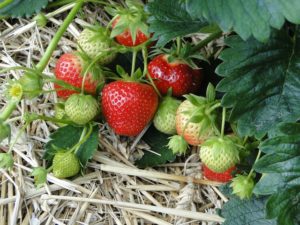 When my boys were young, we'd go strawberry picking. After picking a large bucket of them, we'd stick our heads in, inhale deeply, and giggle with great joy. Now, when I choose my strawberries, I smell them. If they don't smell like ripe strawberries, they don't go in my cart.
Peaches are another happy memory producer. My mom and grandma used to buy a bushel basket of them each summer to freeze. One summer I snuck a few too many while they were peeling them, and that memory isn't pleasant. Fortunately, I've gotten past it.
 I took a vacation last year and the peaches were the most amazing I've ever eaten–and smelled. The juice ran down my face with each bite. 🙂
There are even some happy smells that only deal with food indirectly.
I had an aunt that lived on a small lake. The wooden pier had a distinct odor that I get a whiff of now only on rare occasions. It reminds me of my hours spent fishing, floating in a big inner tube, and eating her southern fried chicken with all the fixings. (The fishing didn't go well enough to feed us.)
Food, smells, and memories are an integral part of who we are. Honor those that are happy.
Perhaps this week you can think of some fun smells and foods to help you relive some fun times.
Practice the art of relaxation and inhale summer deeply.
Summer love,
Carol
P.S. I'd love to hear from you! Shoot me a brief email and let me know what summer smells like to you. And by the way, if the pandemic happenings have left you with a few excess pounds, and loss of focus and self-loving habits, I'll gift you with some coaching to help get you back on track. Don't stay stuck in the mire! Email me today.
"Nothing is more memorable than a smell. One scent can be unexpected, momentary and fleeting, yet conjure up a childhood summer beside a lake in the mountains."—Diane Ackerman