Here's a great habit that has nothing to do with food or eating. So, what's it got to do with living a healthier lifestyle? EVERYTHING!
This month's habit is to remember to BREATHE. Yes, I know you are breathing now or you wouldn't be reading this. The breaths I am referring to are those long, slow, intentional breaths that you control. These take some practice and I will give you some tips on how and when to incorporate them into your day.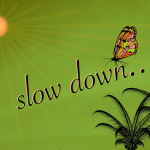 As many of you have figured out, it is pretty easy to do something for 5 minutes. The practice of deep breathing for even 5 minutes may be a great addition to your morning or bedtime ritual. Some refer to this as meditation. Or, you could simply incorporate deep breaths into your day when you catch yourself feeling anxious or uneasy about something.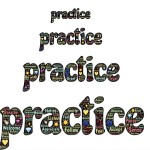 One method of conscious deep breathing is to sit in a comfortable position and close your eyes. Take a slow, deep breath—really deep, into your belly. Hold it for a few seconds,then slowly exhale as much of the air as you can. Repeat. I like to count to four as I inhale; hold to a count of four; exhale to the count of eight. You don't have to count at all; the counting helps me focus on my breath when I begin.
This is a great exercise to try when you are feeling agitated about something, like being stuck in traffic when you are already late for work; or dealing with a challenging situation and you are on the verge of exploding. When we get nervous or excited, our breaths typically become very shallow and rapid. By taking a moment to focus on our breathing, we allow ourselves to emotionally step back from a volatile or uneasy situation.
Any time you are thinking into the future and feeling nervous, this breathing exercise will ground you firmly into the present moment and empower you to take the next action step with confidence and conviction. (There may be times when it is not a good idea to close your eyes or even sit down. You can still practice deep breathing on the move.)
So, relax and take a deep breath. Now take another, and another. Excellent! You've got this!
"One way to break up any kind of tension is good deep breathing." ~Byron Nelson
As a health coach, I work with women who have lost themselves and neglected their health in order to raise their families. I help them find their inner compass and live healthier, more balanced lives.
Is this you? If so, I would love to hear from you.  Send me an email today!