It was Friday afternoon and someone (my dear husband, "Mr. Non-Compliant") got hungry and wanted a hot dog. We were about to get on a highway with bumper-to-bumper traffic and Madvek's Dog House was nearby, so we caved. Yes, I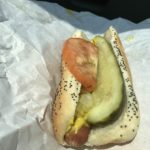 caved. I ate a Chicago style hot dog. Check it out. It was covered with lots of vegetables and CELERY salt. I truly enjoyed it–AMAZING. Once in a while… However, for the record, I DID NOT EAT THE FRIES. Now, moving on to a more redemptive topic: Grilled Vegetables.
One of the best things about summer is the grill. Less cleanup for me, since my dear husband is also a Grill Master. It's easier to feed a crowd and enjoy entertaining when the cooking is done outdoors.
Here's an idea for grilling vegetables:
Cut an assortment of fresh vegetables such as yellow zucchini, red bell peppers, Vidalia onions, green beans–whatever you like best or have on hand—into fairly equal pieces. Don't be concerned about making too many because leftovers are perfect for a snack or with your morning eggs.
Take a large piece of foil and pour a couple tablespoonfuls of olive oil on it to coat. Add the chopped vegetables. Season with Lawry's Seasoned Salt, garlic powder, onion powder or simply salt and pepper. Drizzle with another couple tablespoonfuls of olive oil and seal the foil. Double wrap with another piece of foil. This ensures that you don't loose your contents. Keep in mind that the more vegetables you have in a packet, the longer the cooking time. I often make two packets and make the packet more flat than round, so the vegetables cook evenly.
Place on the grill and turn halfway through cooking. As far as timing, if your heat is at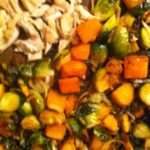 300 degrees, 30 to 35 minutes is a good range. Of course, this is only a suggestion to gauge from, since it depends on how you like them cooked and how direct your heat is.
Potatoes are great like this too. Slice them thin or cube them and follow the same instructions. These take about an hour to cook and they are really tasty when some of them get crispy. I like to mix sweet potatoes with the Yukon Gold variety. This works well when there are people who aren't as fond of the sweet potatoes. Yep, you guessed it–Mr. Non-Compliant.
With such an abundance of summer vegetables to choose from, you can mix, match and try new combinations, which adds great variety to your meals. Happy grilling!
"The food you eat can be either the safest and most powerful form of medicine or the slowest form of poison." –Ann Wigmore