In the midst of this extremely cold and snowy February comes the arrival of not one, but two feasting frenzy opportunities.
Next week we will celebrate Mardi Gras, which is French for Fat Tuesday. Celebrations occur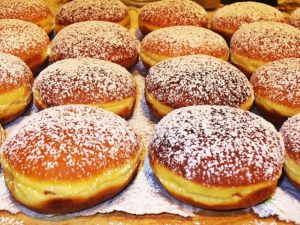 and rich foods are traditionally eaten (yes, yet another excuse to stray), before the Christian Lenten fast that begins on Ash Wednesday, AND Valentine's Day this year. The last time this occurred was in 1945. Now, the double holiday may present a bit of a quandary for those who follow the rules of fasting for the beginning of Lent. Catholics typically eat only one full meal and abstain from meat. This means surf without the turf—did I get that right? Anyway, no steak with your sweetheart is what that means.
Seems a bit unfair to St. Valentine, so the Church recommends this solution: do double celebrating on February 13. It's a two-fer! In case any of you Catholics missed the fine print, we are advised to celebrate our love for our sweetheart on Fat Tuesday and move into our fasting as we begin our Lenten journey with the Lord on Wednesday. Those of you who follow another religion may be able to split up your caloric intake—and have your surf AND turf. (Please don't be offended if you have special rules that I neglect to mention. I'm doing well to get these straight!)
The Paczki, (POHNCH-kee), is the traditional Polish donut that is eaten to celebrate Fat Tuesday and–SURPRISE—is not the healthiest of foods. One of these offers somewhere in the neighborhood of 400 calories and about 20 fat grams, give or take–just ask My Fitness Pal. If you decide to indulge, it had better be AMAZING!
One year I had the fun of being in New Orleans during Mardi Gras celebrations, which occur for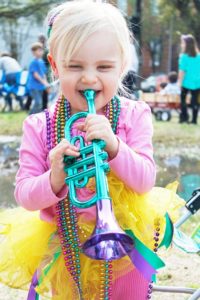 about two weeks before Lent begins. New Orleans is the American city most known for its "Carnival" and parties. There were lots of parades, costumes, beads, delicious food, and celebrating. No, I did not do anything crazy to get those beads! The people on the floats throw them like Hoosiers throw candy. It's all big fun. Fat Tuesday has been a legal holiday in Louisiana since 1875. Ash Wednesday marks the beginning of the Lenten season leading up to Easter, which is April 1 this year. No fooling.
And in case you've wondered, Easter Sunday is celebrated on the first Sunday after the ecclesiastical full moon that occurs on or soonest after March 21, but calculations vary. This is the reason the date for Easter varies from year to year. Ash Wednesday is 46 days before Easter to allow for 40 weekdays of fasting and penance, which is a very good thing if you overindulged on the Paczki.
However you celebrate next week, remember to eat a few extra vegetables. It won't hurt!  
"You don't love someone because they're perfect, you love them in spite of the fact that they're not." –Jodi Picoult, "My Sister's Keeper"