I find it quite curious that the day after many folks around the world celebrate Halloween, we find ourselves with more than we bargained for on November 1.
Christians, celebrate All Saints' Day, also known as All Hallows' Day, in honor of all saints known and unknown.
I recently learned that November 1 is also World Vegan Day, and November is World Vegan Month. In case you're not up on the specifics, Veganism is a type of vegetarian diet that excludes meat, eggs, dairy products and all other animal-derived ingredients.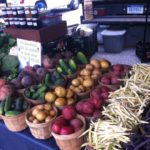 And if that's not enough, today is Give Up Your Shoulds Day, a day to give up thinking about something you "should" do. For example, perhaps you are thinking, I SHOULD go to the gym. Whether you go to the gym or not, the idea behind this holiday is to let go of the thought that is burdening you. In this case, the "should" of going to the gym. The point is to lessen our stress and ease our minds by practicing the art of not "shoulding" ourselves to death.
There's more–National Author's Day. Celebrate this day by writing your favorite author, if he/she is still living, and flying the American flag. Another fun thing to do is ask your friends their favorite author, and what books those authors have written. You may find your way to the library later to check out one of them.
Ladies, this one will be a big hit with you: because it's the first Thursday of November, today
is National Men Make Dinner Day. (Guys, please don't hate me. I'm merely the blogger.) Better warn him early, or you'll be making reservations later. I think most men are pretty good at grilling a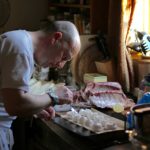 steak, however that will not work if they're celebrating World Vegan Day. 
Today holds so much possibility. Whatever you do, make today great. And if your special guy needs help planning dinner, I'm here to help. Just don't make him feel as though it's something he "should" do.
"There is no greater agony than bearing an untold story inside you."― Maya Angelou