Along with June come some fun celebrations. Besides the new season of life celebrated by many graduates (and parents, now free of tuition payments), and newlyweds, there are a variety of other important days you may find of interest:
Donut Day, June 7 (Mr. Non-Compliant is VERY excited)
Family Fitness and Health Day, June 8 (probably to compensate for the donuts)
World Bike Naked Day, June 8 (interesting—apply plenty of sunscreen)
Flag Day, June 14 (is your flag in good condition?)
Father's Day, June 16 (be sure to remember dad)
Summer Solstice, June 21 (plan a special dinner al fresco)
Take Your Dog to Work Day, June 21 (schedule the grooming appointment)
National Eat at a Food Truck Day, June 23 (is there a salad food truck?)
Pink Flamingo Day (lawn ornaments), June 23 (order yours today)
June is also the month that local strawberries are available here in Northwest Indiana. I checked the website of Johnson's Strawberry Farm in Hobart, and U-pick for the strawberries begins June 15. (Probably a good idea to call first.)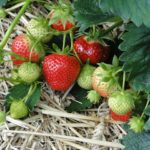 When my boys were younger, we would make the annual trip to Johnson's, ride the school bus out into the dusty fields, and pick berries until the complaining was more than I could bear.
As we picked the berries, we would often put our heads into the buckets and inhale deeply. The strawberry scent was fresh, sweet, and made this annual event deliciously memorable.
Once home, I would make jam, shortcake, and we'd eat them plain, non-stop. It was the official beginning of summer.
Fortunately, strawberries, and all berries, are extremely healthy. They are low in sugar, full of antioxidants, high in fiber, help fight inflammation, loaded with nutrients, and they're delicious.
I often enjoy fresh berries in my Greek yogurt (Fage 5%) along with some granola, as a breakfast or snack. If you're in the mood for chocolate, mix in some cocoa or cacao powder and a bit of honey.
Add berries to your protein smoothie, as a topping for your oatmeal, or side garnish with your eggs. Spinach salad with berries, pecans, goat cheese, and a drizzle of olive oil and balsamic vinegar, is a summertime favorite.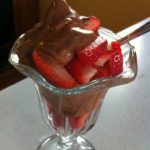 By including fresh, nutrient-rich foods in your life, like berries, you won't miss those snacks that may not lead you to your health goals.
Cheers to June…and strawberries,
Carol
 "As our lives speed up more and more, so do our children's. We forget and thus they forget that there is nothing more important than the present moment. We forget and thus they forget to relax, to find spiritual solitude, to let go of the past, to quiet ambition, to fully enjoy the eating of a strawberry, the scent of a rose, the touch of a hand on a cheek…" ~ Michael Gurian