You will need: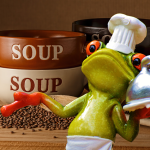 3 cups organic beef broth/stock
2 small onions, chopped
3 stalks of celery, chopped
3 carrots, peeled and sliced
1-14½ oz. can diced tomatoes with juice
½ tsp. pepper
10 oz. frozen soup mix vegetables
1 pound ground beef, browned and drained
At the end of cooking time:
¼ cup butter, melted
¼ cup flour (use brown rice flour or gluten-free flour blend if you avoid gluten)
Directions:
Put all ingredients in the crock-pot, except the butter and flour. Cover and cook on Low for 8-10 hours (High for 4-5 hours).
One hour before serving, make a roux by melting the ¼ cup butter in a small saucepan, then stirring in the ¼ cup flour, until smooth. Add this mixture to the soup and stir. Cook the soup on High until it thickens a bit.
For variety you could:
*Substitute ground turkey or ground chicken for the beef (and use chicken broth in place of beef. I have never done this, but why not?)
*Add different vegetables
Hints:
*I usually double this recipe so I have plenty of leftovers
*Brown your ground beef (or ground turkey or chicken) ahead of time and freeze so you can put this together quickly on another day.