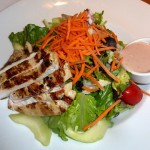 "Boost Your Metabolism"
It's a new year and you're ready to eat more vegetables, get to the gym, lose those extra pounds.
But, it can be overwhelming to know how to start!
Start here. Join us for our next Lunch & Learn and get the facts on rebooting your metabolism. Enjoy a tasty lunch and learn how easy it is to make healthier choices and hit your 2017 goals!
Hurry and claim your spot, as we have limited seating!
WHEN:  Monday, January 23, 2017
WHERE:  Holiday Inn Express, 1773 Fountain Park Drive, Schererville, Indiana (behind Culver's)
TIME:  11:30am-1:00pm (Doors open at 11:15 am)
COST:  $20 for 2 (bring a friend) or $15 per person. You may pay at the door or in advance, if you prefer!