THANK YOU FOR YOUR INTEREST IN MY BOOK Cookies No Milk, Pizza No Cheese! YOU MAY NOW DOWNLOAD IT FROM AMAZON BY CLICKING HERE
My book will benefit anyone who chooses to avoid dairy.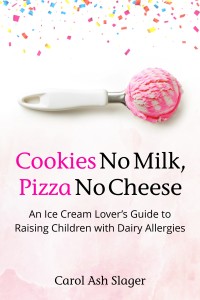 You will learn:
what foods contain dairy
what foods to use in place dairy
hidden names that indicate dairy
There is even a section that pertains to eating in restaurants.
You will read insights and stories of how this challenge played into our family life, from infancy to adulthood, and what Ryan and Colin have to say about their dairy allergy today. Some of our favorite family recipes are also included!
I am excited to share in this journey with  you!
Peace and good health,
Carol
P.S. Once you have read Cookies No Milk, Pizza No Cheese, I'd appreciate it if you would take a moment to leave me a helpful review HERE
P.P.S. Thank you!